Electric Vehicle Handling Qualified (EVHQ) Program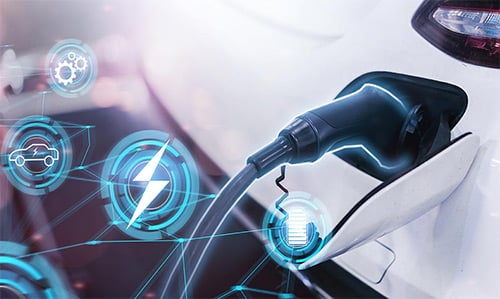 The OEC Qualified Repair Network is working with industry experts and our OEM partners to develop industry standards and best practices for the safe handling of electric vehicles after a collision. The EVHQ program will help collision centres understand the required equipment and processes to safely handle Electric Vehicles after a collision.

OEC connects collision shops, vehicle manufacturers, and insurance companies through one common goal: enhancing consumer safety. But as vehicle technology advances, so does the complexity of the repair. Every day, technicians face increasingly tougher challenges as emerging vehicle technologies become a part of the day-to-day work experience. Sounds complicated, but that's why OEC CRN solutions provide tools and resources to help the industry make quality, safe repairs easier.

Why EVHQ?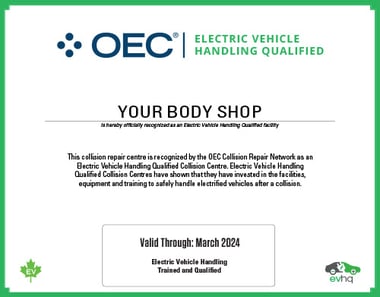 As the number of Electrified Vehicles on the roads today continues to increase, collision centre's across North America must prepare to safely manage the handling of collision damaged Electric Vehicles that arrive at their collision repair facilities.
Are you prepared to handle Electrified Vehicles?
Collision Centres need to be prepared for the potential dangers of handling Electrified Vehicles. Dangers after a collision are not limited to electric shock injuries from the high voltage system. There is also significant danger from fire and toxic gas in the event of a combustion event and additional liabilities of damaging Electric Vehicles or components with improper handling.
The EVHQ – Electric Vehicle Handling Qualified program has been developed by industry experts to identify, qualify and promote EV Ready collision centres across North America. The EVHQ program provides shops with the information and training to help their staff to understand the dangers and have the process and tooling recommended to handle EV's at their facility. It also provides consumers and insurers an easy way to find a collision centre that has demonstrated they are prepared to safely handle Electric Vehicles after a collision.
How can you let your customers, community and business partners know you have made the investment in the tools and training necessary to properly receive EV's after a collision?
Becoming EVHQ - Electric Vehicle Handling Qualified provides recognition that you have the facility, equipment, tooling and understanding of what is needed to safely handle High-Voltage Vehicles.



Electric Vehicle Handling Qualified
Is your facility ready to take the next step and become EVHQ | Electric Vehicle Handling Qualified?

EVHQ Requirement List – updated 06.21.2023*
List of Required Equipment:
Insulated Gloves – cotton inner, rubber insulated, protective leather.  

Safety Glasses (OSHA approved) 

CPR First Aid Response Kit  

Shepherds Hook – 6 ft 

Class C fire-rated, ABC or BC Dry Chemical Fire Extinguisher  

EV Fire Blanket 

Stickers and Signage (High Voltage Warnings, Battery Warning Stickers – Technical Data Plates – Electrocution Risk – High Voltage) 

2 post lift (rated 3,500kg) 

DVOM (Digital Volt/Ohm Multimeter) with HV probe - CAT III 1000V

HV Battery Charger (level 1,2 or 3) 

Smart Charger (low voltage)  

High Voltage Cable Cutters  

Insulated Hand Tools 

LOTO Lock and Labels (Lock-Out/Tag-Out)  

Mobile Safety Barriers (enclose workspace, enclose quarantine areas) 

Digital Thermometer  

Wheeled Dollies - (4 min)   
Recommended additional best practices:

 
Face Shield   

EH Rated Shoes  

Respirator – min. of half mask with P100 and general-purpose charcoal filters 

AED (Automated External Defibrillator) - with trained team member  

Resuscitation Bag 

Balaclava  

Heat Resistant Clothing 

Burn Kit  

Thermal Imaging Camera  

Electric Isolation Mat 

EV Rubber Glove Tester

Class D Fire Extinguisher

Quarantine Areas
EVHQ – Electric Vehicle Handling Qualified Instructional Module Requirement
It is encouraged that every staff member at your collision centre take the EVHQ Instructional Modules.


For EVHQ completion, one person in each of the two (2) roles listed below must complete and pass the EVHQ Instructional Modules to meet EVHQ requirements. One (1) person may not satisfy the requirements for multiple roles.


1. At least one (1) estimator
2. At least one (1) structural technician


Additional EVHQ Instructional Modules may be introduced. The Repair facility will be advised via email as new classes are introduced and will have 120 days from the date that a given class is announced to complete any additional modules.
*This list may be updated from time to time, it is your responsibility to keep current on OEM and industry expert required equipment and best practices.